TMG Build can extend or remodel your property to suit your needs, creating your perfect home with a high-quality finish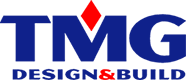 On each of our projects we use a comprehensive team and our skilled trades include:
Joinery & Carpentry
Electrical Services
Plumbing
Flooring
Roofing & Tiling
Decorating
We are a family owned business with over 50 years of experience in the building industry. Based in the heart of Thames Ditton, we provide high-quality construction in the surrounding areas. TMG can extend or remodel your property to suit your needs. We are highly experienced in new builds, extensions and conversions, working with you to create your home and provide a high-quality finish.
TMG delivers a high quality of service from your initial consultation through to completion. We aim to ensure every project runs smoothly from start to finish. During the process we will minimise disruption allowing family life to continue whilst the works are undertaken…
We employ skilled tradesmen and work closely with architects, designers, surveyors and engineers. We provide a design and architect service if required, we are also happy to work with your plans. With many years of experience working in the local area we have forged good relationships with the planning control department at Elmbridge Borough Council.
On each of our projects we use a comprehensive team and our skilled trades include:
Joinery & Carpentry
Electrical Services
Plumbing
Flooring
Roofing & Tiling
Decorating